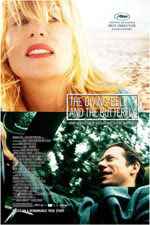 Le scaphandre et le papillon
Alternatieve titel:

The Diving Bell and the Butterfly

Jaar:

Taal:

Keuring:

Speelduur:

1 uur 52 minuten

Releasedatum:

13 september 2007

Genre:

Distributeur:

Landen:

Synopsis:

Het waargebeurde verhaal van de Franse Elle-hoofdredacteur Jean-Dominique Bauby die door een beroerte volledig verlamd raakt. Van carrièreman en vader verandert hij in een kasplantje. Het enige dat hij nog kan bewegen is zijn linkeroog. Bauby weigert echter op te geven; hij leert te communiceren door te knipperen, en weet zo vanuit zijn ziekbed een boek te schrijven.
Weekend boxoffice
| Jaar | Week | Weken | Rang | Recette | % Chg | Schermen | Gemiddelde |
| --- | --- | --- | --- | --- | --- | --- | --- |
| 2007 | 37 | 1 | 10 | € 31.431 | -- | 14 | € 2.245 |
| 2007 | 38 | 2 | 11 | € 27.073 | -13,9% | 14 | € 1.934 |
| 2007 | 39 | 3 | 13 | € 25.844 | -4,5% | 14 | € 1.846 |
| 2007 | 40 | 4 | 13 | € 21.564 | -16,6% | 14 | € 1.540 |
| 2007 | 41 | 5 | 20 | € 16.315 | -24,3% | 14 | € 1.165 |
| 2007 | 42 | 6 | 20 | € 15.927 | -2,4% | 14 | € 1.138 |
Boxoffice ranglijsten
2770

van

7534
126

van

433
1094

van

4154
126

van

530
52

van

600
90

van

271
90

van

272
554

van

1211
738

van

2175
1211

van

2715